No, it didn't have exploding fireworks (like Chicago's Commisky Park scoreboard), or obnoxious cartoon cowboys rushing across on horseback after a hometeam wallop (the Houston Astrodome board). But it was quaint and delightfully square, giving fans a rush to see their names and cities up in lights at the ballpark located in a former cornfield in Bloomington.
*
*ballpark equidistant from the Twin Cities of Minneapolis and St. Paul
It greeted visitors from near and far, from Caracas, Venezuela, to Cambridge, Minnesota. Civic groups from Rochester, Minn., might be given a shout out, or "
Best Birthday wishes to Mrs. Irma Smedly of St. Paul - age 84 years young tomorrow
" were staples you'd expect on a visit to the park. In fact, you kind of looked forward to these messages, which added to the ambience of an outdoor ballgame back in those days. I say this as I sit here spinning yarns on the porch for the young 'uns...
Sometimes, it was a nice way to tweek coaches and players - like Vern Morgan
Another Twins-O-Gram view from that first game in 1961. Click image for largeness.
Jim Kaat goes deep, ca. 1969 Minn. Star-Trib Photo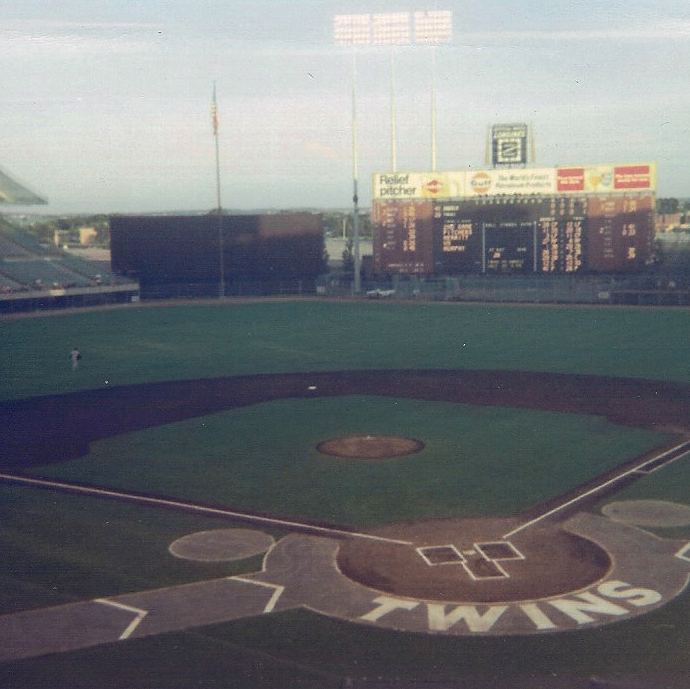 As our old, Hall Of Fame broadcasting friend Herb Carneal said: "
So long everybody
!" - TT