You would have sworn Norman Rockwell was perched in the left field bleachers at Target Field with his easel, beret, paint palette and brushes, etching Big Jim's posterior for posterity. Thome arrives at home plate on the night of August 17, 2010, after his walk off
walk off two-run homer (box at Baseball Ref.)
beat the Chicago White Sox. I say that painting of the
Thanksgiving family
doesn't look half as joyous as this (photo by Bruce Kluckhorn/Getty Images, from Sept. 27, 2010 Issue of SI (newstand edition)). Greatest picture of 2010 Twins season! QUESTION: was entire roster over-medicated on Ritalin at the time of photo shoot?
It bears repeating. In 2010, Thome:
* Led the Twins in homers, with 25 in 276 at-bats
* Had a .412 on-base percentage, and a .627 slugging percentage (combined 1.039 OPS)
* proudly wore the retro Twins uni with as much throwback grace as anyone
It was one of the most noteworthy offensive displays by an individual batter in the first decade of this century, especially when you extrapolate his numbers over 500 at-bats and factor in that said player was 39
years old at season's end.
The opinion has been expressed that Twins Manager Ron Gardenhire under-utilized Thome before the concussion injury of Justin Morneau sidelined the superb first baseman and cleanup hitter after July 7. Thome mashes righthanders far better than rightfielder Michael Cuddyer (

.261/.319/.423, over last three seasons

)

which should appeal to the field general's grasp of Aristotelian logic. In the perfect world, that is...
To clarify: anytime a righthander is facing the Twins (roughly 100 games out of 162) it would seem to dictate that Mike Man should be warming the bench, deferring to Big Jim. Would Gardy sit Cuddy after taking in these stats? Fat chance, owing to his tendecy to stroke veteran players' egos, not wanting to offend their poor, fragile sensibilities. Seems dumb, easy choice to you and me-"hmm, Hall-of-Fame caliber player instead of long-time regular??"- but that's politics (logic courtesy of
Aaron Gleeman site article
).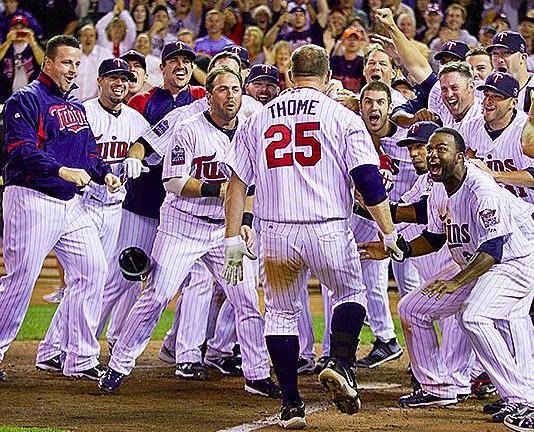 The full panorama of the above photo, including fat guy (Matt Capps),
at left. Didn't fit into original SI article, for obvious reasons.
Photo version f
rom Gleeman site. Full text of SI story is here.
 May Your Taters Fly Far!
TT