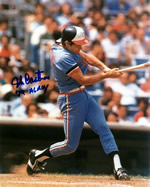 John Castino
1979:
Seasons of Passion & Fire, Albeit Brief
In another lifetime, I see
John Castino
as one of those Pony Express riders - bringing in the mail through a hail of arrows from hostile Indian batteries, enduring the wrenching heat of the Old West. He was the guy that teammates wanted on their side, whom fans loved for his working class grit.
"Go ahead, try to spika me,
I messupa your face." ---
I know. I know.
Cliche I-tai...Italian never spoken
in the Castino home in Evanston.
The story of how the Twins became entwined with the skinny kid from Illinois begins with a game he played against them
before the Twins ever heard his name
( enjoy superb John Swol interview at his site, the excellent
Twins Trivia
). In what had become a rite of spring, Castino's college team, the
Rollins Tars
, played the Major League Twins in their annual spring game on
March 6, 1974
. Rollins is located near Winter Park, Florida, near the Twins former spring training home of Tinker Field, in Orlando.
Lost to me now is the final score of that contest, and exactly who pitched and played for the Twins. Amateur players are usually giddy just to make contact with professional pitching. They almost always end in blowouts for the big boys.
Castino
went 2 for 4
, with two singles (see back, 1980 Topps).
I remember listening in horror to that spring game broadcast back to the Twin Cities. Our ace Blyleven (reasonably sure it was Bert!) giving up hits to some snot kid just out of high school? How could this happen? What's this "Castino" thing? An exotic Italian ice cream?! A extra from "The Godfather?" cast? Dumbstruck. What will the
pros
do to our hurlers this year?
My pre-teen sense of pride in the Twins was severely rattled. It was as if someone had told my girl she's ugly at the 6th Grade rollerskating party, then punched me in the stomach as a parting shot.
John Castino, 1980 Topps Rookie card
The Twins, knowing a gem had dropped into their lap, began scouting John. Castino was taken in the third round of the MLB 1976 amateur draft with the
10th pick
. Drafted just ahead of him with the 9th pick was future Twin
Dan Schatzeder
. Allan Trammel went to the Tigers in Round Two. Round One saw future Twin
Ken Landreaux
picked by the Angels, future Twin-Killer
Pat Tabler
to the Yankees, and
Mike Scioscia
go to the Dodgers as a catcher. Scioscia would also go on to manage the Los Angeles Angels of Anaheim past the Twins in the
2002 American League Championship Series
. A solid draft, at that.
John had to beat out the incumbent Mike Cubbage for third base in '79. Cubbage had been there since he'd come over in the 1976 Bert Blyleven trade to Texas, and Mauch usually showed preference towards the veterans. That figures. Castino was still a thin guy lacking man muscles, appearing to be a choir boy barely able to shoulder a Louisville Slugger.
Appearances deceive.
Manager Mauch chose a formulaic platoon for his third sackers, where Cubbage batted against righties, Castino against lefties. It took until the middle of May for Castino to begin receiving the majority of starts at third (
see day by day game stats
). Cubby was a solid major leaguer, but the disparity in their talent was obvious. Castino batted over .300 most of that year, finishing at .285, showing an obvious love for hitting triples (8) in only 398 at bats. He had excellent range, getting to so many balls that he was nearly beyond peer in the league (see Baseball Ref
link with advanced fielding metrics
-take the time to peruse, esp. the double play section right of chart - fascinating! Castino was right there with George Brett, Buddy Bell, defensive stalwarts).
The defensive tactician side of Mauch had to like that. Nice ball-hawkin' and then some "bling" to bolster that genius title - for the Rookie of the Year Award, the writers flinched: it was a
draw between his new third baseman and Alfredo Griffin
of the Toronto Blue Jays. That after John was told he was a longshot to make the team out of spring training.
Beyond the numbers,
Castino had an innate pluck and sense of a leader to stand up to others in the baseball ranks, including the manager AND the Twins team owner...
When Calvin Griffith had blasted the team (see Castino article) for poor play during the 1982 season in the media, Castino shot back. "I'm not in charge of assembling the team. You'll have to ask Mr. Griffith about that."

Calvin then issued this statement:
Griffith, Mid 1960's

"If Castino is a man, he will come see me face to face, if not, he's a mouse."
Castino takes it from there:
"Well, Calvin knew I'd come see him. When I got to his office he said, "Castino, you're the most overrated third baseman in the American League." I said, "Then trade me Calvin." He replied, "I can't trade you, you're the best third baseman in the American League." I just walked away and couldn't figure out a way to debate his logic (or lack thereof). Both 100 percent true stories. He was an interesting character.

Anyway, it gives some insight to Calvin's boldness and lack of tact.

Having said that, however, I liked the man and respected him. You always knew where you stood with him."(Seam heads link).



Relations gone awry at Tiger stadium: Fri, May 14, 1982.

Tiger Lance Parrish is man-handling a Twin, lower left.

On right, #22 Randy Johnson and #19 John Pacella of the

Twins are chanting peaceful James Taylor lyrics to pacify the

crazed jock-mob. Pacella had just pitched his first game

in the Wynegar / Erickson trade.





 There was another on-field incident in 1982 that deserves mention in the Castino saga. The Twins rivalry with the Detroit Tigers had flowered into palpable animosity over the years, probably beginning in earnest with the arrival of Manager Sparky Anderson in the late 1970's. The rancor between the two teams continued all the way up to the 1987 League Championship Series showdown.

Then, the May, 1982 brawl errupted, culminating in Detroit pitcher Dave Rozema attempting to karate kick Castino (see Rachel Blount, Minneapolis Star Trib.). The whole, unsavory display of fisticuffs first began with an errant pitch from our favorite reliever and whipping boy, Ron Davis.



See the video for Sparky's account. Lousy quality, but still fascinating!

Anybody know if Charles Manson had a bobblehead Day yet?

Still sad to me is how John's back betrayed him, prematurely ending his career. A succession of injuries and spinal fusion operations forced him to call it quits in early May, 1984. What was most frustrating for me was the fact that right up to the very last day, he was improving in all phases of the game: he was fielding at an all-star clip, and fittingly reached base 4 times in 5 plate appearances in his finale (three hits plus a walk) against the Angels on May 7, 1984. And then he decided the pain was just too much, packed his gear, and left. An unfinished college education awaited his attention, and a career as wealth enhancement advisor beyond that.
Taking his place on the Twins roster the next day in Anaheim was a young outfielder with only two years of minor league experience:
Kirby Puckett
. His line? Reached base...4 times in 5 at bats (4 singles).
John prospered, but definitely
watched with wistfulness and grace
3 seasons later when the Twins won it all ( see video no. 2 at link of him in retirement, summer, 1986).
 ***
"When I was 24, and in the majors, I felt I was
invincible. I thought I could play until I was 45."
 Factoid: Castino graduated from New Trier (Ill.) High. That school also numbers Liz Phair, Donald Rumsfeld, and Rainn Wilson ("The Office") among its graduates.
I'm not sure you could get a more assymetrical collection than this to gather at an all-school reunion.
Quotes about John Castino
:
*
Bruce H
. (Castino fan), at Baseball Ref said:
"
What a pleasure it was, to watch John Castino play the hot corner. He was as good at third, as anyone I ever saw at the Met
."
*
Kent Hrbek
(
Twins first baseman) from
"The Twins At The Met: "I was always a fan of Johnny Castino. I admired him and the way he played, the hard-nosed player he was until he hurt his back. He was the third baseman when I came to the Twins. During my rookie season he was the guy I chatted with the most and looked up to the most
."