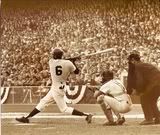 Opening Day, 2011. Along with the classic pitcher's duel supplied by starters Carl Pavano of the Twins and Brett Anderson of the Oakland Athletics (and a save by returning closer Joe Nathan) in yesterday's 2-1 win, there was the wistful, great unveiling of Tony Oliva's statue outside of Target Field. Tony made it a classic, speaking from the heart his gratitude for the people that helped him in life, and for the art of
sculptor, Bill Mack
. For so many of us, Tony is our all-time greatest Twin. You have to agree with Tony: Mack
DID
make him look so good! Then again, the artist was already given a wonderful subject to work with - the Oliva swing was art unto itself.

Photo from mid-1960's Twins yearbook.
 There's a reason why Tony Oliva was considered by fans and baseball Hall of Famers alike as being one of the select, great hitters of the 1960's. He won three batting titles in an era that had vastly reduced statistical numbers - the time was ruled by the pitchers, who could deliver from a 15-inch high mound. Now it is 10-inches. Why is that significant? It's physics. The pitcher has more leverage on a higher mound while the greater angle produced from the higher mound makes it more difficult to hit the ball squarely (see
excellent Harold Friend article at Suite101.com
for more on this discussion). What was a .320 batting average then would be good for .350 or better in today's hitter-friendly time. Despite those conditions, you could count on Tony to either line one over the third baseman's head, hit a blue darter into the gap in rightfield, or outright bomb one over the centerfield fence.
But those were yesterday's glories. The present has arrived to give the man his due, and not just for him - it is to create a collective joy, for us all. Again, there is the art...
Below is a nice video from Rick Prescott (from the
BallPark Magic
site) of yesterday's National Anthem performance by singer Maria Versalles and guitarist Rick Oliva. They, of course, are the children of Twins greats Zoilo Versalles and Tony O. Nice touch! Watch for the well-timed jet flyover at the end! Rick also posted
this wonderful video
of Tony's speech, from another perspective. You can see Jerry Bell, Dave St. Peter, Juan Berenguer, et. al., joining in the festivities honoring Tony. Well done, Rick!
Here are two wonderfully filmed videos. First is an opening day "from the ballpark" sights and sounds piece, then another(from Rick Oliva's vaults!) from the Sept. 3, 2010 Twins legends game. Look for Rod Carew, Tony Oliva, and Jack Morris in the clip. As a Star Spangled Banner connoisseur, I really enjoy the rendition - stylish, without the overblown production as rendered by so many singers (see "
cater walling
," "
Christina Aguilera
"). A Twins Treat!
Opening Day - Beautiful Stuff!
2011 MN Twins Opening Day // Target Field
from
capture studios
on
Vimeo
.
What a treasure that Tony Oliva is!
As Herb would say "
...and the count rides along..."
TT