Edited, July 20, 2016
Historians were shocked to find this photo, hidden in an attic at the Houston Command Center.As if we didn't know they were covering things up after all these years!
L-R: Harmon, Jim Perry (on mound),
Buzz Aldrin giving
Rod Carew the steal sign, and Jim Kaat (orbiting
)
.
Mr. Perry: finally had breakout season, '69
A wild day in AND out of this world! July 20, 1969 marked the
first Nasa moon landing
(You Tube video of event). It totally dates me, but I vividly remember watching the grainy satellite images of Neil Armstrong walking on the Moon with my parents and brothers that Sunday evening at 4:17 p.m. (CDT).
But let's backtrack to the previous evening...
The Twins game of Saturday,
July 19, 1969
(BRef. box) in Seattle was halted on Sunday morning, July 20, at 1:00 a.m. with the game at a 7-7 tie in the bottom of the 16th inning, Jim Kaat having just retired former Twin Don Mincher for the third out. It was resumed the next afternoon, before the regularly scheduled game. In all, it clocked in at 5 hours, 41 minutes to play 18 innings for the Twins to take an 11-7 win. The go-ahead run was scored by
reliever
Jim Perry
,
of all people,
who doubled in the Twins top of the 18th, moved up to third on a Ted Uhlaender single, and came home on a balk by rookie John Gelnar. The Twins went on to score three more in that inning.
Immediately following this ungodly mess, Martin again sent out the slugger Perry to the hill, and the new Twins ace logged another 9 complete innings ( in 2:10) for a 4-0 shutout win. Then, in approximately 3 hours after the conclusion of this game
, the Apollo crew safely landed in the Sea Of Tranquility. We Twins fans could then wile away the time before astronauts Neil Armstrong and Buzz Aldrin walked on the Lunar surface at 10:56 p.m. (CT). In the meantime, the Twins could get some rest what with the All-Star break, though Harmon Killebrew, Tony Oliva, and Jim Perry were taking a separate flight to Washington as the team's reps for that game. They were atop the Western Division with a 59-37 record, and four games up on second place Oakland.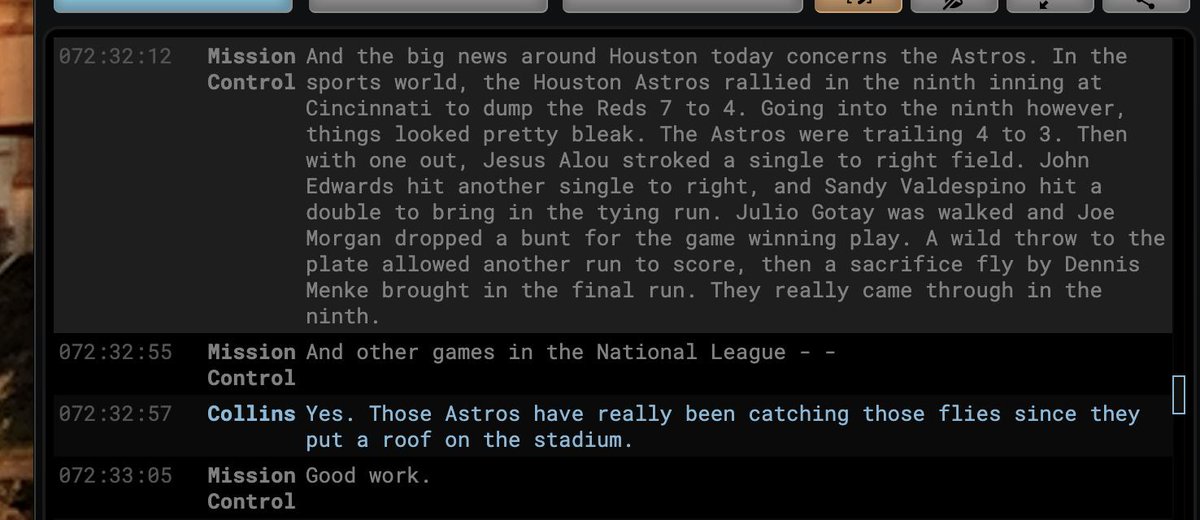 Tbe Apollo 11 astronaut Michael Collins was happy to receive reports about the Astros on Friday, July 18
This was wonderous, of course, and I just knew then that spaceflight was in my future. Dream on. But it had to compete with my new-found fascination with the
Twins that season, and the never-ending battle my brothers and I had to see who would cop the last can of
Tom Moore soda
or the latest box of Old Dutch Potato Chips
. This was first Twins team to capture my imagination. They were a potent mix of sluggers, basestealers, and youthful, talented pitchers mixed in with veteran hurlers. They were led by the tempestuous (or lover of fisticuffs) rookie manager Billy Martin, from whom the team borrowed its daring on the bases, and the fans of the Twin Cities loved him! If you want to ingratiate yourself with Twins fans from that era, just ask them anything about this team and Martin. And it was to Martin's advantage that he and his team got to face new AL expansion entry Seattle on their way to their first championship in the new divisional play era. They won 12 of 18 games versus the Pilots in the season series.
For Minneapolitans only: yes, Dave Mona of Minnesota Football Golden Gopher repute was once a Twins beat reporter in a galaxy far, far away...and his report from Seattle appeared the next day, Monday, July 21, 1969. Sorry for some of the lousy scans
. I'll try to remedy this soon.
First game Pilot pitcher
Jim Bouton
, recently passed,
was told by manager
Joe Schultz
that he was starting against the Twins on Friday, the night before his start. If you check the boxscore, you'll see it wasn't a stellar affair for him.
Leo Cardenas
and
Teddy Uhlaender
each hit "moonshots" in the 4th inning, with the former's chasing Bouton from the ballgame.
Bouton's funny description of his performance:
"

My main concern was that Carew and Tovar would be stealing on my knuckleball, so we went over the pickoff signs and hoped for the best. It wasn't good enough. In my first start of the year, on this day of July 19, 1969, A.D., I, James Alan Bouton was creamed

."
You're missing something if you've never read Boutons "
Ball Four
" (Amazon link), his terrifically funny (and at times poignant) expose on his
Pilots teammates
(Seattle Times story) like
Steve Hovley
(AKA: "Orbit") and the 1969 season. The hapless Pilots in 1969 really only had 3 or 4 legitimate all-stars on their roster:
Tommy Harper
,
Tommy Davis
, and future stars
Mike Marshall
and possibly
Diego Segui
. Marshall would become the Twins top reliever in the late 1970's. Besides him, the former / future Twins factor was quite prevalent on the Pilots:
Sandy Valdespino
,
Gary Roggenburk
,
Rich Rollins
,
Ron Clark
,
Don Mincher
and
Danny Walton
all played either key or marginal roles on the team that season. Of note: a fellow named
Jay Thomas Kelly
, known more commonly as "Tom" Kelly (the future manager who would lead Minnesota to two world championships) was drafted by the Pilots in the 8th round (no. 22, 178th overall) of the
1968 amateur draft. Kelly would not surface in the majors until May 11, 1975 (see box) with the Twins. Click to see the Pilot team photo.
Tom Kelly, circa 1969
Former Twin, Rich Rollins
The '69 Pilots
(team page, BBRef.) finished last (12 team league) in pitching ERA (4.35), fielding (.974), and struck out more than any other club (1,015 whiffs). However, they could claim bragging rights versus the California Angels, who were last in team batting average (.230) to Seattle's 11th place finish (.234). Silver linings can be found wherever you like, I guess. Meanwhile, the Twins were the offensive juggernaut of the league, leading all clubs in runs scored (790), hits (1,520), batting (.268), and total bases (2,319). Mismatch.
For some of these small pieces, try clicking on the image to get a larger print.
The complete dish on the
Sunday, July 20
game is at this link (Baseball Ref. box).
The expansion Pilots would go on to become the Milwaukee Brewers the next season, in 1970. Ironically enough, these illegitimate children of the Pilots would engage in an even longer battle with the Twins - 5:47 for a 22-inning game - on
May 12, 1972
(BBRef box). You have to go to this link yourself to find out about THAT affair!
And here is a video of Seattle Pilots home field, where the two games were played: Sicks Stadium. It's hard for me to say if there has ever been a ballpark more aptly named. But Sicks must be on the short list of all-time worst ballparks in modern MLB history. But they sure did have a wonderful team fight song (small doses will suffice, FYI).
That's all for now! Hopefully the news bits made for some good reading! Bonus columns by Minneapolis Star writers Sid Hartman and Dick Cullum are found below...
As good, old Herb Carneal would say "...
and the count rides along
." - TT