My little eye spies Earl
up by the top of the Tall
Boy, a 1961 Topps (pic 1).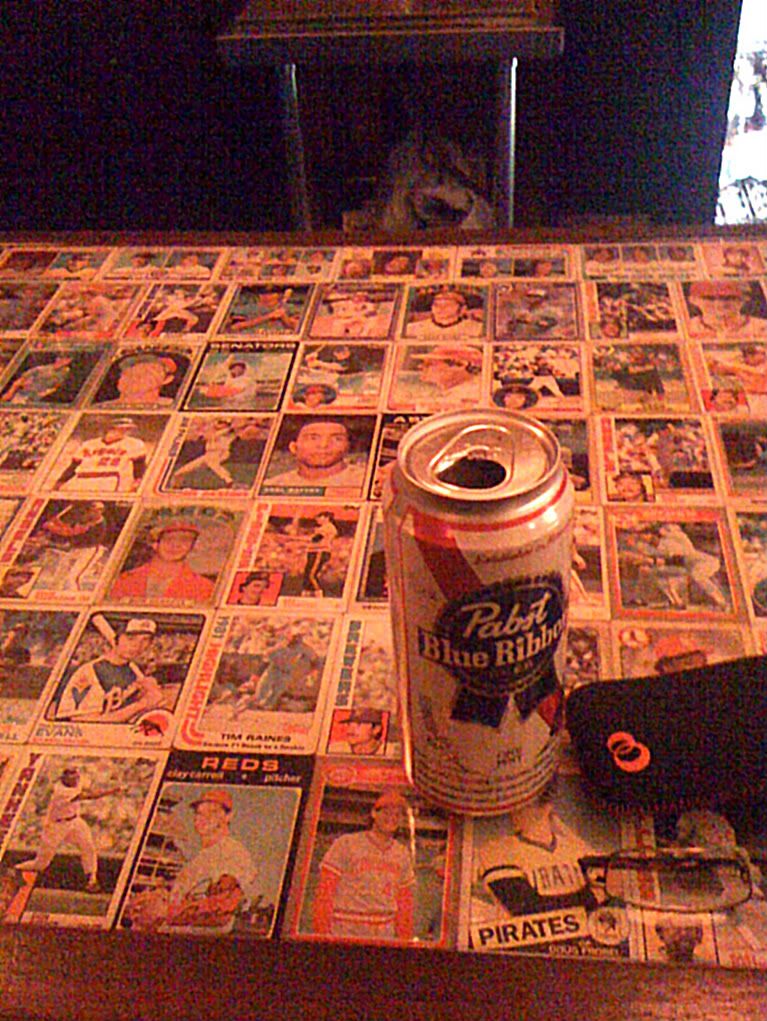 (Pic 1.) Visiting childhood memories:
a time machine to days long past.
The Low Brow pub in Minneapolis is a fine, relaxing little place to go with friends for a bite to eat OR enjoy a cold one while talkin' baseball. Nice, easy to find, and the wait staff were top shelf in accommodating us. It's not really a sports bar. In fact, you have to look hard to find any other photos of sports and baseball figures, beyond the cards. Still, it's a great venue for viewing a ballgame with a buddy.
"Dirty Al"

and I took in it's sublime pleasures last Friday during Game 7 (ESPN box score). Just not the Ranger's year, my friends! Even so, we could enjoy the Cardinal club's professionalism, while taking in the bar's marvelous baseball card collection under glass.
Dirty Al befriending young Harmon's
1961Topps card image, his first visit to
Half the fun, of course, was picking out Twins heroes and sharing stories of years past in the menagerie. I'm my trademark, Cliff Claven-style, I discoursed on the wonders of the Twins 1961 Topps set; "You see, Dirty Al, for example, the players had just emigrated from the nations's capitol, and were pictured hatless - owing to the fact that the Topps card company did not have sample info on the new Minnesota team logo."
Well, that, and it was a hell of a lot easier than airbrushing "TC's" onto 20-plus Senators caps of the year previous. As you'd expect, the Claven in me was only partially correct with the facts! Take a look at the 1961 Twins Group #1, 1961 Twins Group #2, and 1961 Twins Group #3 from the set!
Pic 2 from bar. The vintage cards pre-Upper Deck, pre-card
speculating commodity hoarders, are still the best & most
character laden hunks of cardboard on God's green Earth.
But that's just me.
Spotted this trademark
Hrbek fielding pose
(1987 Topps) under glass.
High sentimentality factor!
I will plan to revisit this fine, little gem of a pub. With good friends.
As Herb Carneal, our good friend at the mic for so many years, saith:
"So long everybody!" - TT