Jim Kaat and Tony Oliva will be under consideration for election to the National Baseball Hall of Fame on Dec. 4 (story and stats at MLB.COM). They definitely offer up some solid credentials for the Veterans Committee to consider. The expectation is they'll be considerable dark horses, and will finish far back in the voting. At this point, I thinketh Gil Hodges and Ron Santo would have to be the front runners for the honor. Another former Twin, Luis Tiant should make a strong showing also...that despite his wooden acting chops...(see vid)!
Too bad. I was too young to remember seeing Hodges and Santo play. Hodges was the Mets manager when I became a fan in my kidhood. He went at the cigs like a smokestack, but was otherwise the man of moderation. Skippered The Amazin' 1969 New York Mets to a World Series Championship. Died before the '72 season got underway. Santo is among the greatest third basemen in NL history. A very emotional, demonstrative (see pic!) team leader. Not to take away anything from those two - I'm sure their long-time, respective fans in Brooklyn/L.A. and Chicago wouldn't - but it would have been nice if the Hall would have honored them long ago, before they passed on.
As it is, our guy Kitty is quite humble about just being on the ballot, according to this link.
The well-spoken Kaat and especially Oliva were top echelon players in their 1960's heyday. And are still very much alive to enjoy the honor next July. Kaat was the ultimate gamer, pitched in 4 decades, won damn near 300 games, and reinvented himself late in his career as a starter AND reliever, a la Dennis Eckersley. That is to name but a few of his highlights. He ocassionally pops up these days on MLB network broadcasts. Heck, he could go in on the merit of his skill at the mic alone. As James states below, Kaat had bad timing: barring his hand injury incurred while sliding into second in the 6th inning of a game against Chicago on July 2, 1972* (game box, BBRef) Kaat may have had his career year (and narrowed the gap to 300 wins). He was 10-2, with a 2.07 ERA at the time (left: check fab Topps 1972 baseball card!).
*

After breaking his hand at second on a 6-4 forceout in that 6th inning, Kaat pitched to 11 more batters, finally giving up the mound in the 8th when

Wayne Granger

relieved. His 7-2/3 innings were the last he pitched that year. Grit and determination personified! Adding a footnote to this footnote, the Twins promoted Dave Goltz from AAA Tacoma after that ballgame to replace the injured Kaat. He made his debut on July 18.
It's a nice list of guys for the committee to mull. I submit: honor these and the other stars in the near-future; let's include these Twins now! I love the picture below, from old Commiskey Park: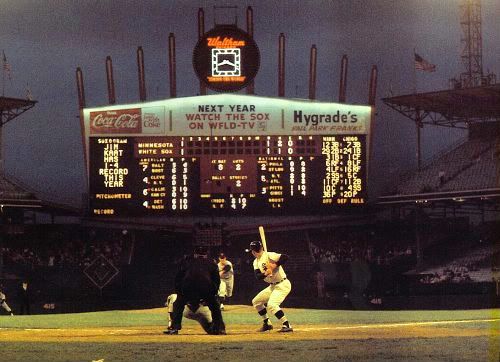 For the record: Kaat has to go down as one of the most cerebral, cagey
Here's a link to Kaat's game stats from his outstanding Cy Young-worthy 1966 season. Only the great Sandy Koufax ('66 game logs) stood in his way, in the time when only one award winner was selected from among all the major league teams.
And now for you reading types, Bill James expounds in his absorbing "What Ever
His stats are on par with these pitchers:
(those starred are in the Hall of Fame)
View Similar Player Links in Pop-up
Source: Baseball Reference
As a life-long Twins fan, I'll readily admit, there's a certain "greedy pig" factor at play here. We Minnesotan's got our Bert Blyleven in this year, and now we're back at the trough again. More-more-more! So be it. But you have to admit: the statistical evidence above, plus Kaat's career longevity, competitive spirit, and post career have to be factored in his case.
As Hall of Fame Twins announcer Herb Carneal phrased it:
"So long, everybody!" - TT